On Meeting Johnny Mathis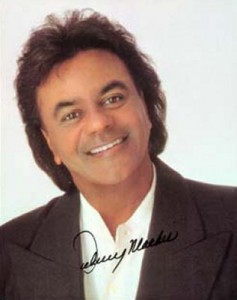 I recently chatted with Branson resident and accomplished songwriter Pat McManus about the day he met legendary vocalist Johnny Mathis. It was 1975 and producer John Florez asked Pat to come down to Studio 'A' in the RCA building in Hollywood to sing on a recording session.
Pat shared 'I went into the control room at Studio 'A' and there was John Florez, Musical Director D'Arneill Pershing and the recording engineer, Grover Helsley. They were in the middle of recording and I don't remember if it was my eyes or ears that first made me realize that it was none other than Johnny Mathis in the studio. I was fresh from Nashville and there right in front of me was the man behind 'Chances Are' and 'Wonderful Wonderful.''
'After the singing stopped, John told me to go in and introduce myself and sing the back-ups on the song. It turns out that Johnny was doing a cover tune on Neil Sedaka's hit, Laughter in the Rain, a song that I knew, thank goodness! We were going to double the chorus parts, but Johnny said that it sounded like I could do it by myself just fine. I'd never heard sweeter words in my life. The cut went on the album 'When Will I See You Again' released in 1975.'
'I ended up working with John Florez on several more projects after that trial-by-fire day in Studio 'A'. I also got to know D'Arneill, who was Johnny's Musical Arranger and Conductor for many years . It has also been fun to get to know his brother, D'Vaughan Pershing, Andy Williams' Musical Director in Branson.'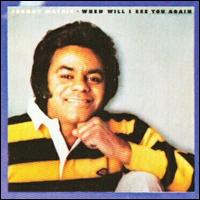 Since that fateful meeting, Pat McManus has gone on to write seven number one hits for artists like The Oak Ridge Boys (American Made) and Reba McEntire (Little Rock) and is still an active writer and producer.
'Johnny is one of the nicest people in show business, and he always has been' says Pat. 'His voice is one-of-a-kind and his talent is a masterpiece. Johnny's a true American musical treasure.''
The incomparable Johnny Mathis will be in concert with the Springfield Symphony Orchestra at the Mansion Theatre Friday and Saturday evening, September 26th and 27th at 8 PM. Call 800-785-1550 for tickets.
_ Top Photo: Courtesy of Station Wave
– Bottom Photo: A cover shot of "When Will I See You Again' (c) 1975 Columbia Records
2 Comments »
2 Responses to "On Meeting Johnny Mathis"
Sean Murray on 26 Sep 2008 at 7:24 pm #

Hello a você em Brasil! Agradecimentos para a escrita!

Hello to you in Brazil! Thanks for writing!

Eliza on 30 Jun 2009 at 8:00 pm #

I love you .. Jhonny Mathis
FOR EVER…….